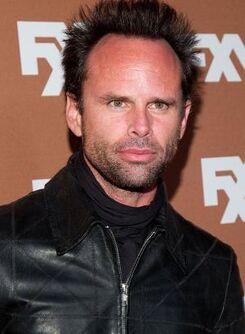 Walton Sanders Goggins, Jr. (born November 10, 1971) is an American actor and filmmaker. He portrayed El Camaleón in Machete Kills.
Biography
Edit
Born on November 10, 1971 in Birmingham, Alabama, Walter Goggins is an actor best known for his role as Detective Shane Vendrell on the FX police drama The Shield. Raised in Lithia Springs, Georgia, Goggins grew up with his grandmother, who owned a small village post office. When he was 10, he and his mother became state-wide champion cloggers (Mountain Dancing). The tandem opened for B.B. King when the blues guitarist was on tour at the Atlanta Fulton County Prison.
Goggins was also the producer of the short film The Accountant, which was released in 2001. The film won an Academy award for Best Live Action Short Film. While he wasn't listed as the official winner, he accepted the award alongside Ray McKinnon and Lisa Blount. His personal life is somewhat tragic because his wife Leanne committed suicide while suffering from severe clinical depression.
As for his most notable role on The Shield, it is said that Goggins comes in and becomes his character for the entire day, relating with the character's gains and losses throughout the day. In an interview he shared an anecdote about his teeth being knocked out of his mouth by a baseball during 5th grade, prompting him to be brought to the emergency room. A year later they were put back in, he encountered a similar accident, knocking them at the bottom of a swimming pool. The accident necessitated dental reconstructive surgery.
Goggins appeared on CSI in a 2007 episode as Marlon Frost. His other credits include Veronica Mars, Randy and The Mob, Apple Jack, House of 1000 Corpses, The Bourne Identity, Murder She Wrote: The Last Free Man, Shanghai Noon, The Cherokee Kid, JAG, The Next Karate Kid, and Murder in Mississippi in 1990. In 2010, he bagged the role of Boyd Crowder on the FX series Justified.
Selected Filmography
Edit
Predators (2010)
Django Unchained (2012)
His wife Leanne owned a dog walking business; they had a dog called Beulah who is still with Walton.
Supports environmental and humanitarian causes. Is an active member of Global Green USA.
Is an avid photographer and traveler.
Father of Augustus, born 2011.
Hollywood, California [August 2005]