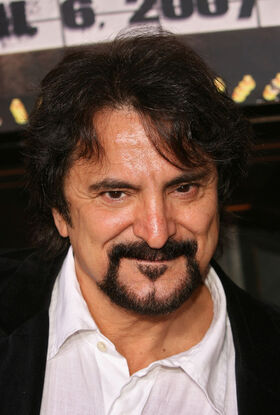 Tom Savini
is an American actor. He portrayed
Osiris Amanpour
in
Machete
.
Biography
Edit
Dubbed "The Godfather of Gore" for his brilliant make-up and special effects work on countless horror movies, Tom Savini has grossed people out as the guy behind the gore on films ranging from Friday the 13th to Night of the Living Dead to Quentin Tarantino's From Dusk Till Dawn. Developing an interest in magic and illusion as a child, when he was inspired by the 1957 Lon Chaney biopic Man of a Thousand Faces, Savini spent most of his youth in his room, inventing characters and experimenting with make-up techniques. After studying acting and directing at Carnegie Mellon University, he went to Vietnam as a combat photographer for the Army; ironically, he would later gain fame for simulating on the screen the same kind of carnage he witnessed first-hand during the war. Savini first began working as a make-up and special effects man on horror movies during the early 1970s. Some of his more notable work during that decade and the subsequent years includes George A. Romero's Dawn of the Dead (1978), and Day of the Dead (1985), Friday the 13th (1980), the Creepshow series, The Texas Chainsaw Massacre 2 (1986), Dario Argento's Trauma (1992), a 1995 re-make of Romero's Night of the Living Dead, which Savini also directed, and Tarantino's From Dusk Till Dawn (1996). In addition to his make-up and special effects work, Savini has a number of acting and directing credits to his name on the stage, screen, and television. He has also written a number of books about his trade and has been the subject of the documentary series Scream Greats.
Selected Filmography
Edit
Dawn of the Dead (1978)
From Dusk Till Dawn (1996)
Planet Terror (2007)
Django Unchained (2012)
Is good friends with horror director George A. Romero. The two have worked together on many films.
Turned down Friday the 13th Part 2 (1981) to work on The Burning (1981).
Has appeared in both the original and the remake of Dawn of the Dead (1978).
Only man in Hollywood who can claim all four titles of stuntman, make-up artist, actor, and director. Only one man has come close: makeup artist, actor, stuntman Lon Chaney - Tom's influence and childhood idol.
Is a close friend of stuntman Taso N. Stavrakis.
For his stunt work, his reference is action legend Jackie Chan.
Turned down the chance to direct Pet Sematary (1989).
Has a haunted house, Terrormania, also located in Pittsburgh, Pennsylvania. The students from the classes he has perform and work in the haunted house.