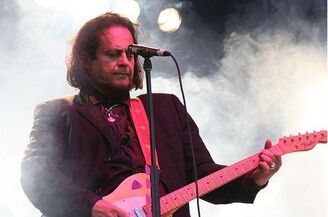 Humberto "Tito" Larriva
is a Mexican/American song writer, singer, musician, and actor. He portrayed
Culebra Cruzado
.
Biography
Edit
Larriva was born in Ciudad Juárez, Chihuahua, and grew up in Fairbanks, Alaska, and El Paso, Texas. As a child he played the violin in the school orchestra and sang in the church and school choirs where he met his wife Janet Carroll. In 1972 Larriva snuck into Yale University for a full term without being noticed. After being kicked out of the Ivy League university, he moved to Mexico City and in 1975 moved to Los Angeles, California. He now lives in Austin, Texas, with his wife and daughter and continues to work in the music and film industries.
Larriva's first acting role was "Hammy" on The Pee-wee Herman Show in 1981. He has gone on to play notable supporting roles in big-budget films like Born in East L.A., Road House, Boys on the Side, Desperado, From Dusk Till Dawn and Once Upon a Time in Mexico. He often works with his friend, director Robert Rodriguez. His latest appearance was a few seconds cameo in Rodríguez' Machete trailer in Grindhouse. He also appears in the actual, released movie.
He also played the character Ramon in the film True Stories (1986). Larriva covered the Talking Heads song, "Radio Head," and played the organ in the "Puzzling Evidence" scene.
Apart from acting, Larriva has scored films including Dream with the Fishes, Tin Cup, and Mi Vida Loca.
Selected Filmography
Edit
Desperado (1995)
From Dusk Till Dawn (1996)
Once Upon a Time in Mexico (2003)
Machete (2010)
Talented Lead Singer of Tito and Tarantula (which was featured in From Dusk Till Dawn).
Member of late-70s L.A. punk rock band The Plugz.