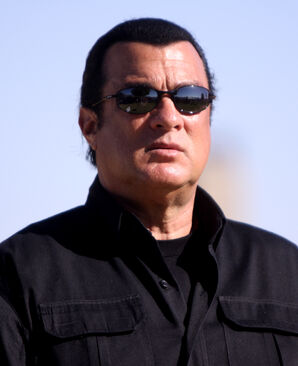 Steven Seagal
is an actor. He portrayed  in
Machete
.
Biography
Edit
Born April 10, 1951, in Lansing, Michigan, Steven Seagal traveled to Japan at age 17 to teach English. He earned several black belts in martial arts and choreographed movie fight scenes for actors such as Sean Connery. When he moved back to the U.S., he worked as a bodyguard and martial arts instructor. He didn't get his start in films until he produced and starred in Above the Law (1988). From there, Seagal became one of the most sought after action stars of the 1990s.
Actor and martial artist Steven Seagal was born on April 10, 1951, in Lansing, Michigan. The son of a nurse and a teacher, Seagal attended Orange Coast College and Fullerton College in California. He traveled to Japan at the age of 17 where he taught English, studied Zen and perfected his martial arts, eventually earning black belts in aikido, karate, judo and kendo.
Seagal spent 15 years in Asia, studying Eastern philosophy and occasionally choreographing martial arts fight scenes in movies, having worked with stars such as Sean Connery and Toshiro Mifune. When he returned to the U.S., he opened a martial arts academy and became a bodyguard for such celebrities as Kelly LeBrock and Hollywood agent Michael Ovitz. The former eventually became Seagal's wife and the latter helped him make films for Warner Bros.
His first film, 1988's Above the Law was well received among action buffs, leading to 1989's Hard to Kill and 1992's Under Siege, his most popular film to date. In 1994, his directorial debut, On Deadly Ground, had disappointing results. He followed with two more action vehicles, 1996's Executive Decision and 1998's The Patriot.
Selected Filmography
Edit
Above the Law (1988)
Half Past Dead (2002)
Urban Justice (2007)
Is the first foreigner ever to own and operate an Aikido dojo in Japan. Known as "Master Take Shigemichi", he was the chief instructor at the Aikido Tenshin Dojo in the city of Osaka.

Has three children with Kelly LeBrock: Annaliza, Dominick, and Arissa.

Is an Aikido-master - 7th Dan.

Father of Kentaro Seagal and Ayako Fujitani.

His love of guitar and appreciation of rasta music led him to study with a teacher in Jamaica, where he owns a vacation home.
His Santa Inez (CA) home includes 200 acres planted with cabernet grapes, which are sold to wineries after harvesting.