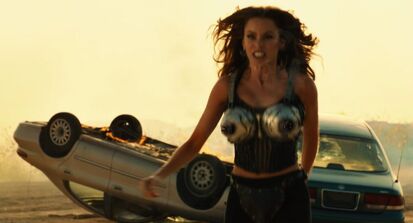 Mercury Sable is a vehicle seen in Machete Kills.
Overview
Edit
The Mercury Sable was a four-door sedan and station wagon sold by the Mercury division of the Ford Motor Company. Introduced as a 1986 model, the Sable was produced until 2005 in its original production run. For the 2008 model year, the Sable name was revived as Mercury re-branded its Montego. Previously a mid-size car, the 2008-2009 Sable was a full-size car. During its combined 21-year production run, the Sable was a badge-engineered variant of the contemporary Ford Taurus with several cosmetic changes.
The Sable was a milestone design for both Mercury and the entire American automotive industry, as well as a very influential vehicle in the marketplace, with Mercury assembling a total of 2,112,374 Sables from 1985-2005. It was produced in four distinct generations introduced in 1985, 1991, 1995 (with a major revision for 2000), and 2007.
In The Film
Edit
This is seen as Madame Desdemona attacks Machete while he is driving away.