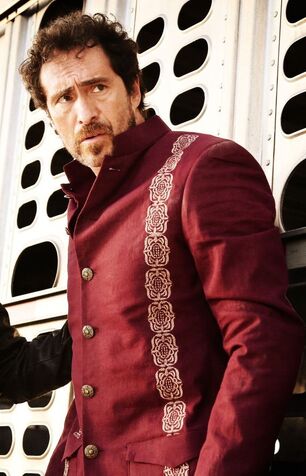 Marcos Mendez is a character seen in Machete Kills. He is the tertiary antagonist of the 2013 sequel, Machete Kills. He was built up to be the main antagonist, though this was a misinformation campaign to hide the film's true main villain.
Machete Kills
Edit
Marcos Mendez was a secret agent for the Mexican government who infiltrates Los Cuerpos, he was forced to do bad things. He was asking his supervisor that he wanted his life back, only to learn that he was bought by cartel. He was taken to the killing room, as he was forced to watch his wife and daughter get killed, then he started losing control, as he became a maniac killing his supervisor and cartel, leading him to change Mexico himself. He started working with Luther Voz, building a weapon he was supplied with, as it was wired to his heart.
He was first seen being confronted by Machete, attempting to launch the nuclear missle to the United States, only to be taken alive by him, as Machete races to VozTech to force Voz to disarm the missle, which led Mexico to offer a million dollars for Madame Desdemona, El Cameleón and Sheriff Doakes to chase after Machete. As they made it across the boarder, Mendez is decapitated by his former right-hand man, Zaror.
Machete weaks up in a healing pool, confronted by Voz, revealing Mendez's heart ticking, which will self destruct the world, so he can move to his space station. So Machete and the Network find Osiris Amanpour to help cut the wire, at Voz's party, Voz shoots the heart, causing the missle to go forward, as Voz escapes, Machete successfully stops the launch by cutting the red wire.
Relationships
Edit
Machete - Enemy/Ally
Luther Voz - Enemy/Ally
Cereza - Ally
Etymology
Edit
Spanish and Portuguese form of MARK
Film Portrayal
Edit
He is portrayed by Demián Bichir.