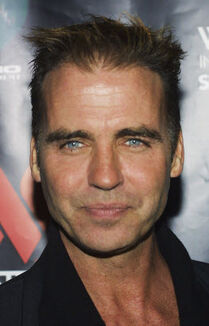 Jeff Fahey
is an American actor. He portrayed
Michael Booth
in
Machete
.
Biography
Edit
Jeff Fahey was born in Olean, New York, one of 13 children. His family moved to Buffalo when he was 10, where he attended Father Baker's High School. After graduation in 1972 he traveled around the world doing odd jobs. He was a crewman on a fishing boat, drove an ambulance in Germany, lived in a kibbutz in Israel and spent some time in India. He then returned to Buffalo and joined the Studio Arena Theatre. From there he went to New York City, where he studied with Myra Rastova, began doing off-Broadway theater and television soap operas. He started a production company and produced off-Broadway shows out of the Raft Theatre on Theatre Row. He first gained attention as a motion picture actor in Lawrence Kasdan's Silverado (1985), in which he played Brian Dennehy's deputy Tyree, a cold-blooded killer with a thirst for vengeance. He starred in the acclaimed live television play The Execution of Raymond Graham (1985) (TV) and the TNT mini-series "44 Days". He starred for over two years in the daytime serial "One Life to Live" (1968). He appeared in the Broadway revival of "Brigadoon," toured with "Oklahoma," performed in Paris in "West Side Story" and in London in "Orphans" with Albert Finney.
Selected Filmography
Edit
Grindhouse: Planet Terror (2007)
Machete (2010)
Sushi Girl (2012)
He is one of 13 children.
He is a partner in a construction company and a film grips group called "Black Sheep Grips."
He is the co-founder of the American Road Production Workshop Series at the Raft Theatre in New York, and participates in the Writers' & Directors' Workshops there.