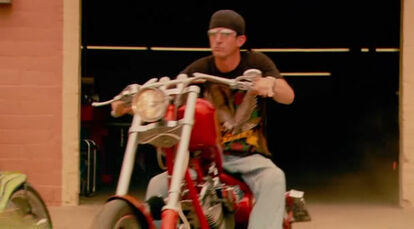 Harley-Davidson Chopper is a motorcycle seen in Machete.
Overview
Edit
A chopper is a type of motorcycle that is either modified from an original motorcycle design ("chopped") or built from scratch to have a unique hand-crafted appearance. Some of the characteristic features of choppers are long front ends with extended forks often coupled with an increased rake angle, hard-tail frames (frames without rear suspension), very tall "ape hanger" or very short "drag" handlebars, lengthened or stretched frames, and larger than stock front wheels. The "sissy bar", a set of tubes that connect the rear fender with the frame, and which are often extended several feet high, is a signature feature on many choppers.
In The Film
Edit
This is seen in Machete.