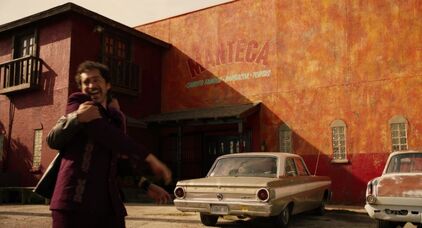 Ford Falcon Futura is a vehicle seen in Machete Kills.
Overview
Edit
The Ford Futura is a large car made by Ford Australia between 1962 and 2008. Although the last Futura was part of the BF Series Ford Falcon range it was badged and marketed as the 'Ford Futura' rather than the 'Ford Falcon Futura'. Ford Australia first used the Futura name on the Ford Falcon Futura which was introduced in 1962 as the new luxury sedan in the Falcon XL Series range. The name was dropped from the XR Falcon range of 1966 and re-introduced in the XW range of 1969. It was discontinued again for the XC Series of 1976 and re-appeared in the ED range of 1993. The name was used continuously by Ford Australia from that time until the replacement of the BF Series Ford Futura by the FG Series Ford G6 in 2008.
In The Film
Edit
This is seen outside of Manteca bar.