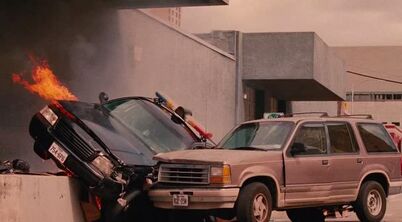 Ford Explorer is a vehicle seen in Machete.
Overview
Edit
The Ford Explorer is a sport utility vehicle produced by the American manufacturer Ford since 1990. The Ford Explorer went on to become one of the most popular sport utility vehicles on the road. The model years through 2010 were traditional body-on-frame, mid-size SUVs. For the 2011 model year, Ford moved the Explorer to a more modern unibody, full-size crossover SUV/crossover utility vehicle platform, the same Volvo-derived platform the Ford Flex and Ford Taurus use. It is slotted between the traditional body-on-frame, full-size Ford Expedition and the mid-size CUV Ford Edge. Although outwardly similar, the fifth generation Explorer, Ford Edge and Ford Escape do not share platforms. The fifth generation Explorer does, however, share platforms with the Ford Flex and Lincoln MKT.
In The Film
Edit
This is seen in Machete.