Chevrolet Impala is a vehicle seen in Machete.
Overview
Edit
The Chevrolet Impala is a full-size sedan built by the Chevrolet division of General Motors introduced for the 1958 model year. Deriving its name from the South African antelope, Chevrolet's most expensive passenger model through 1965 had become the best-selling automobile in the United States, competing against the Ford Galaxie 500 and the Plymouth Fury when full-size models dominated the market.
Third generation (1961–1964)
Edit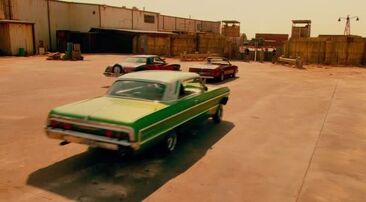 The Impala was restyled on the GM B platform for the first time in 1961. The new body styling was more trim and boxy than the 1958–1960 models. Sport Coupe models featured a "bubbleback" roof line style for 1961, and a unique model, the 2-door pillared sedan, was available for 1961 only. It was rarely ordered and a scarce collectible today. The rare Super Sport (SS) option debuted for 1961. This was also the last year the top station wagon model would bear the Nomad name. Power brakes were $43.
Fifth generation (1971–1976)
Edit
The Impala remained Chevrolet's top-selling model with the fifth generation. A high-performance big block V8 was still available in the form of the Turbo-Jet 454, which produced 365 hp in 1971, but power decreased as the years went along. The 1971 redesigned B-body would be the largest car ever offered by Chevrolet. The hardtop Sport Coupe continued to be offered; it was a smoothly sloped semi-fastback reminiscent of the 1961 "bubbletop" styling. A three-speed manual transmission remained standard at the beginning of the year, but in the spring of 1971 all V8-equipped full-size GM cars got Turbo Hydra-Matic as standard equipment. Interestingly, Powerglide remained optionally available for six-cylinder cars until the 1973 models. In keeping with their huge size, these new "B" body Chevrolets were close to Cadillac in luxury features, styling, and ride. No doubt many were confused upon seeing a 1971 Impala for the first time, thinking it was a Cadillac Eldorado.
In The Film
Edit
One is used as Padre's car and the other was driven by a gang member and is seen at the border.