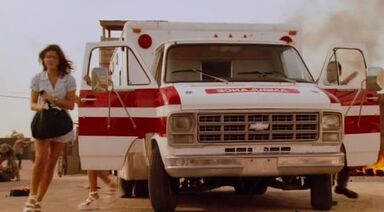 Chevrolet Chevy Van is a vehicle seen in the film.
Overview
Edit
The Chevrolet and GMC G-Series vans were made by General Motors for North America. They are in the same vehicle class as the Ford Econoline van and the now discontinued Dodge Ram Van.
The term "Chevrolet van" also refers to the entire series of vans sold by Chevrolet. The first Chevrolet van was released in 1961 on the Corvair platform, and the latest Chevrolet van in production is the Chevrolet Express.
In The Film
Edit
Nurses Mona and Lisa, along with Luz are seen exiting the vehicle.