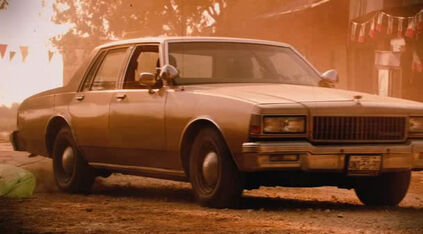 Chevrolet Caprice is a vehicle seen in the film.
Chevrolet Caprice
Edit
Overview
Edit
The Chevrolet Caprice is a full-sized automobile produced by the Chevrolet Division of General Motors in North America for the 1965 through 1996 model years. Full-size Chevrolet sales peaked in 1965 with over a million sold. It was the most popular American car in the sixties and early seventies, which, during its lifetime, included the Biscayne, Bel Air, and Impala.
Introduced in mid-1965 as a luxury trim package for the Impala four-door hardtop, Chevrolet offered a full line of Caprice models for the 1966 and subsequent model years, including a "formal hardtop" coupe and an Estate station wagon. The 1971 to 1976 models are the largest Chevrolets ever built. The downsized 1977 and restyled 1991 models were awarded Motor Trend Car of the Year. Production ended in 1996.
Chevrolet Caprice Classic
Edit
Third generation (1977–1990)Edit
The 1977 Caprice Classic was drastically downsized, which reduced its weight and exterior dimensions, while increasing headroom, rear seat legroom and trunk space compared to 1976 models. GM called its downsizing program Project 77 and invested $600 million to develop the most changed full-size Chevrolet to date. The weight reductions from the 1976 models were 611 lb (277 kg) for coupes, 637 lb (289 kg) for sedans and 871 lb (395 kg) for wagons. The 1977 Caprice coupe and sedan were over 10 inches (250 mm) shorter while the wagon was 14 inches (360 mm) shorter.
In The Film
Edit
Two versions of this vehicle is seen in the film.